The Most Advanced Gutter Guard
Stan's Roofing & Siding installs RHINO Gutter Guard®
RHINO®'s combination of strong aluminum and surgical-grade stainless steel micro-mesh that ensures only one thing gets into your gutters…water. This is the best gutter guards product in US market. Four distinct features make it the only choice in gutter protection:
Surgical Grade Stainless Steel Micro-Mesh
After testing mesh sizes for a decade, we selected a surgical grade stainless steel micro-mesh with openings that are optimally sized to prevent even small debris from entering your gutter system while handling an amazing 60 gallons of water per minute. Never again will leaves, twigs, pine needles, oak tassels, shingle grit or other small debris clog your gutters. Our ideally sized mesh guarantees it will take in all of the water it encounters while keeping out all debris and the surgical grade stainless steel will not corrode over time.
Embossed Textured Surface
THE RHINO®'s body is made out of an embossed aluminum to give it a textured surface that prevents debris from sticking. By minimizing the amount of surface area debris comes in contact with, air can flow underneath which helps it to shed easily with a passing wind.
Patented Hemmed Mesh
Our patented "hemming" process mechanically bonds the micro-mesh securely into aluminum body. This creates a strong connection that will not come apart after years of weathering and debris will simply blow off of this smooth surface.
Patented Gutter Strengthening
RHINO Gutter Guard® actually strengthens your gutters. Let's face it, gutters are weak by nature so they become detached quite easily from your home during heavy winds, storms, or snow and ice loads. Our patented installation design gives your gutters box-like strength which stabilizes the entire system.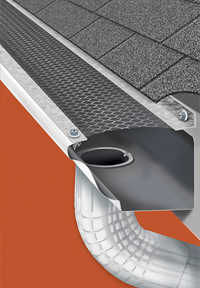 Protects gutters from clogging and creating water damage

Strengthens the gutter system to withstand damage from wind or heavy loads

Reduces home fire hazards by keeping debris out of the gutters

Surgical-grade stainless steel micro-mesh will not rust or corrode

Handles up to 60 gallons of water per minute

Harvest water for reuse without the hassle of filtering debris

Embosses aluminum prevents debris from sticking
Looking for a price? Get a no cost, no obligation free estimate.