Customer Reviews
About Me
By Patricia F.
Alsip, IL

"Stan's Roofing received a good rating on the BBB website. They were professional, friendly and responded quickly in providing me..."

By Veronica C.
Alsip, IL

By Tom K.
Hometown, IL

"I would like to thank Allen, Scott, Junior and his Crew, and Sandy for a job well done. I have never had a Home Project completed..."

By Yvonne C.
Hometown, IL

By Bradley D.
Tinley Park, IL

By Jamae C.
Frankfort, IL

"I highly recommend your company. Scott was excellent!! He was courteous, well organized and kept me advised of the project..."

By Amy B.
Oak Lawn, IL

"Thank you for the great job and for answering all my questions and working around my busy schedule."

By M. M.
Oak Lawn, IL

"Everything was great. Wonderful service."

By Steve M.
Worth, IL

By Susan N.
Palos Hills, IL

"You have been in business forever and you will be there if I need you in the future. The owner is not an out of state company..."
Testimonials
from customers I've helped!
Ellen M. of Hometown, IL

Amy B. of Oak Lawn, IL

Rita D. of Orland Park, IL

"Efficient and conscientious"

Karen F. of Palos Park, IL

Karen F. of Palos Park, IL

"Planning for the future"

Ellen K. of Darien, IL

Willy T. of Romeoville, IL
Sandy Czajkowski

from

Stan's Roofing & Siding
Title:
Customer Service/Marketing Manager
Hometown:
Joliet
Sandy came aboard the team at Stan's early on in 2016 as an office assistant. She has worked for various retailers in management as well as in human resource management. Throughout her management career, she developed a strong sense of customer care. At Stan's, she is responsible for customer relations, scheduling of estimates, mailings, invoicing, as well as updating the company's website. Sandy was introduced early in her childhood to Stan's Roofing and Siding as her Uncle was great friends with Stan himself. She enjoys spending time with her family, especially her two boys(ages 8 and 6) and her 2 year old daughter.
Videos from projects I was involved with: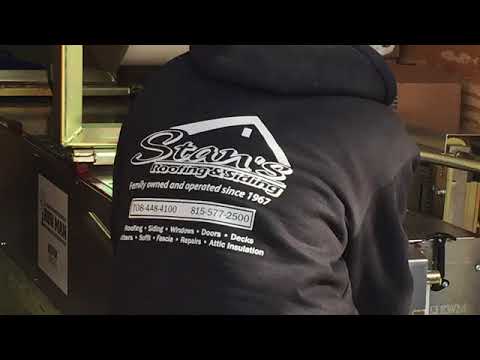 Need Gutters?
In late fall of 2017, Stan's Roofing and Siding invested in a brand new gutter machine and trailer to bring...
Watch Video
Related Videos
Before and after photos from jobs I've worked on: